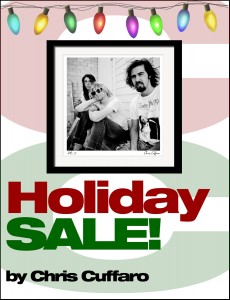 Ho Ho Ho!  Happy Holidays Yo!  My summer sale went well, but I still have a lot of leftover framed prints to sell.  I just moved after 23 years and I have too many framed prints and no room for them.  SO… I'm having a BIG Holiday Sale!  Woo hoo!!  There are some new prints and new prices.  These will make great presents for any music photography lover!
Check out the list here and let me know if you have any questions or want to purchase anything… email me at chriscuffaro@icloud.com  Thank you!!!
PS.  Stay safe during this holiday season and have fun.