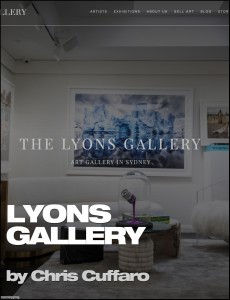 YO!  Got some great news for ALL my Aussie friends and fans!  I have signed a deal with LYONS GALLERY to represent me in Australia my home away from home.  My friends know how much I love OZ and know how exciting this is.  I've done 3 exhibitions in Sydney and have more in the works.  This is a big deal for me and I'm so excited for the opportunity that LYONS GALLERY is giving me.
LYONS GALLERY is respected all over Australia and working with some of the best artists on the planet!  I love what they do, how they do it and their appreciation of the artist.  This is just the beginning cuz we both have BIG ideas.  Trust me when I say… you ain't seen nothing yet.
LAST… to my Aussie mates and fans I hope to be back sooner than later.  I miss my friends, banana bread, vanilla lattes, Sydney, Melbs and Bondi Beach!  I miss everything Australia!
LYONS INFO:
Sydney
259 Victoria St, Darlinghurst
NSW 2010, Australia
Port Douglas
24 Wharf Street. Port Douglas
QLD 4877, Australia
Tel# +64 401 555 521