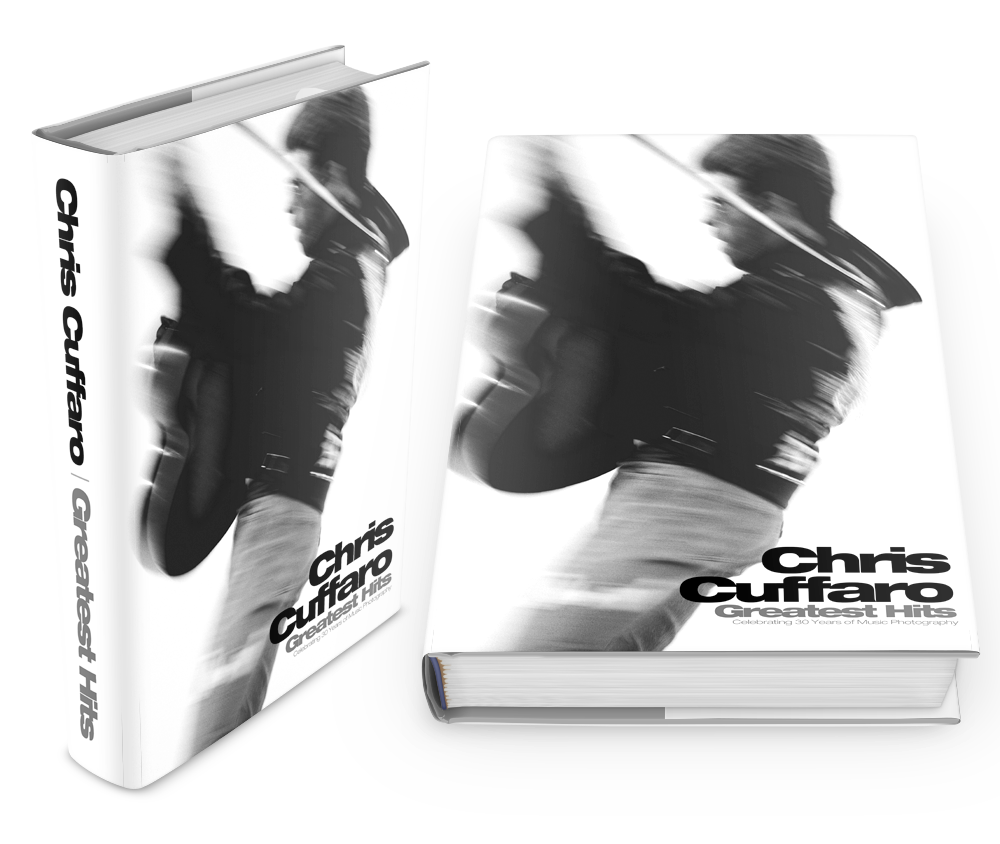 For over 30 years Chris Cuffaro has been shooting the biggest musicians on the planet. Whether it's the breakout stars of the Seattle grunge scene such as Nirvana and Pearl Jam, the masters of punk rock Henry Rollins and Iggy Pop, the O.G.s of hip-hop Ice Cube and Ice-T, or the icons of pop music No Doubt and George Michael, Chris Cuffaro has worked with them all and countless more. He built a solid reputation over the past three decades and is well respected in the entertainment industry. His work has appeared in Rolling Stone, Spin, RayGun, Vibe, Musician and on over 300 album/CD covers.
Greatest Hits spans from the funk of the 70's to the alternative pop of the 90's. It represents the distillation of a decades-long career capturing superstars and one-hit wonders in stunning black and white. Do you remember your first concert? What is your favorite album of all time? No one can pick up this book without reliving a fond memory of their personal music history.
We all share an inherent love for music and its impact on us. People from different cultures and countries unite at concerts and when listening to recorded music. Greatest Hits is a fantastic opportunity to link your guests' musical memories with the experience of visiting your hotel. Guests can rejoice in these feelings and emotional connection to music Chris captures in Greatest Hits and happily purchase it to add to their collection at home.
In addition to Chris' music photographs, Greatest Hits also includes a comprehensive Property Directory listing vital stats of all participating properties. Your property's inclusion in this directory will put it alongside hundreds of top-tier properties across the globe, gaining you additional exposure to elite travelers and music aficionados alike.
Available package upgrades include custom color Property Pages featuring 4-page layouts that uniquely showcase your location and customized covers featuring your individual branding.
9.25×11.5 | 300+ Pages | 250+ Images | Hardcover with Jacket
The Afghan Whigs, Albert Collins, Alice In Chains, Apollonia, Bad Brains, Bad English, Ben Harper, Bobby Womack,Brian Wilson, Chris Cornell, Circle Jerks, Dave Alvin, Dave Navarro, DJ Spooky, Duff McKagen, Eddie Van Halen, Eddie Vedder, Evan Dando, Elvis Costello, Fiona Apple, George Harrison, George Michael, The Go-Go's, Gwen Stefani, Henry Rollins, Ice Cube, Ice-T, Iggy Pop, Inger Lorre, INXS, Jackson Browne, Jane's Addiction, Joe Ely, John Hiatt, John Taylor, Johnny Lydon, Josh Todd, Kenny Loggins, Kim Gordon, Korn, L7, Larry Graham, Limp Bizkit, LL Cool J, Mark Knopfler, Matchbox20, Matt Sorum, Maynard James Keenan, Melissa Ethridge, Michael Hutchence, Mike Love, Mike Muir, Morrissey, Mudhoney, My Life with the Thrill Kill Kult, Nick Cave, Nirvana, No Doubt, Patti Smythe, Pearl Jam, Perry Farrell, Phil Collins, Prong, Red Hot Chili Peppers, Rob Zombie, Scott Weiland, Selene Vigil, Shannon Hoon, Slash, Social Distortion, Soundgarden, Stanley Clarke, Steve Jones, Terence Trent D'Arby, The Game, Tommy Lee, Wayne Shorter, White Zombie, Willie Nelson, Dweezil & Ahmet Zappa…