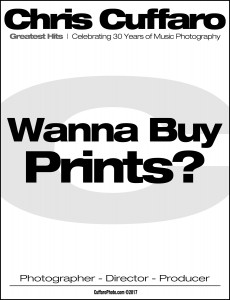 YO! I don't think I've made it very clear here on my website, but you can purchase prints of my photos for your walls, your collections or as gifts. Any photo you see on my site can be printed for you. Just let me know what shot you like and what size you're interested in. I sell 4 main sizes…
13"×19" – $250.00 USD
These are AP (artist prints) and not limited editions.
17"×22" – $500.00 USD
Editions of 50
24"x26/32" – $1,000.00 USD
Editions of 50
48"x48/52" – $3,500.00 USD
Editions of 10
All printed on 300g watercolor paper, signed and numbered. You can order directly by emailing me at ChrisCuffaro@icloud.com.
If you're in Los Angeles you gotta stop by Mr Musichead Gallery at 7420 West Sunset Blvd. LA, CA 90046. Ask for Sam cuz he can help you with not just everything I have, but he carries the best of the best in music photography. He knows more about music photography than anyone I know or have met.
Let me know if you have any questions or need any help at ChrisCuffaro@icloud.com.
Thank you!