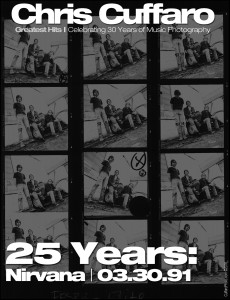 Lets go back to March 30th, 1991… I was in Seattle on a job.  I was there to shoot Queensryche for EMI Records on the 29th.  It was a fun shoot, the band was too nice and we got great results.  Easy shoot!
Days before I called Nirvana's manager John Silva and asked if the band had time to do a quick shoot before I left the next day.  John said yes and set it up.  I still owe John for this one and I've always been grateful that he hooked me up with his bands.  I was set to meet the band at a diner at 2-3pm.  Dave, Krist showed up on time and Kurt was about 30 minutes late.  The poor guys looked tired and hungry, so I bought them food and made sure they had some energy to shoot.
It was a simple shoot, I took them to two simple places that were in walking distance.  I did not want to make this more than it was, a simple shoot.  Dave had just joined the band and this was his first shoot with the band.  The guys were so shy and just not into doing a photo shoot, but they gave their best.  I made it easy… Sit here, stand here and just relax.  The alley set-up is my fav cuz the mood of the band was captured so well.  Kurt was so "lets get this over with", while Dave & Kris were "are we done yet?".  The shoot lasted all of a couple hours.  I think we spent more time talking about friends, music & Seattle than really shooting pix.
The one thing that makes me smile about this shoot was that Dave was so broke he told me he didn't really couldn't afford drum sticks.  I called a friend in the drum industry, bought a hundred pairs of sticks and had them shipped to him right away.  I felt it was the least I could do.  I doubt he remembers, but I always did what I could to help.
When I look back 25 years, I'm in shock most of the time.  I can't believe the time has gone by so fast.  Seriously, where did the time go?  I'm happy I have photos to remember these good times, because if I didn't I wouldn't remember much of the fun.  I've been so lucky to do what I love and I very aware none of it would have happened if it wasn't for help from my friends.