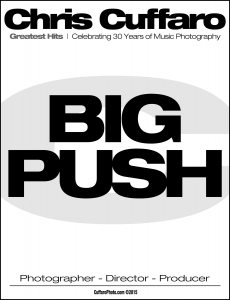 Yo!  NOW things are gonna get serious.  We have 14 days to raise a butt load of money for this documentary.  Time to step up and make shit happen.  I need you help and I need it now.  Please JOIN me and contribute today.  Go to SeedAndSpark.com now and donate what you can.  JUST DO IT!
We have AWESOME incentives for every size donation.  Postcards, credits and fine art prints!  The prints alone are amazing!  Signed by me just for you.
Don't let me down!  We've got to make this happen.  Be apart of it today and your friends will know you're super cool.  This documentary is my project of passion. 35 years of shooting music all in one movie.  Stories about all the artists you know and love that you can't hear anywhere else.  I know you love music like I do.  I know you have stories like I do.  I know together we can make this truly special.  JOIN me today!
If you haven't already, please check out our Wishlist on SeedAndSpark.com and contribute to be a part of this exciting project.  JUST DO IT!
Share Greatest Hits on Twitter | Share Greatest Hits on Facebook