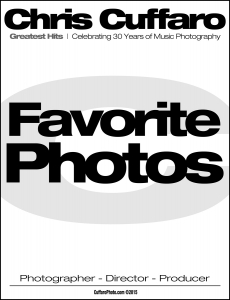 Have you had a chance to check out the Greatest Hits photos at CuffaroHits.com?  What do you think?  I'm curious.  I'm pretty proud of it.  I did everything on this site from the design to the images.  ALL ME, baby.  So, the guys in the office have been asking me: What is my favorite photo or photos?  NOT an easy question to answer, but I will try my best.  Seriously, how can I pick just one?
I thought about this and here's my honest answer.  There are NONE that are my number one favorite image, but there are a few that stand out for many reasons.  Here's my Top 10 in no particular order…
Perry Farrell in Bed – A special moment that just happened.  Pure magic!
Nirvana #1 – I knew they were special then!
Eddie Vedder at home – Just hanging out with a friend.  Miss him much.
Chris Cornell in the desert – I just think this image says it all about Chris.
George Harrison – my hero and the nicest man ever!
Iggy Pop portrait – one of my favorite shoots and artist.
Michael Hutchence standing – might be my favorite shoot ever???
Willie Nelson – hanging out with Willie, Daniel Lanois & Emmylou Harris! It doesn't get better.
Mudhoney – One of my favorite bands ever!
Larry Graham – when I was in High School, Graham Central Station was the best band ever!  He was beyond nice!
If you haven't already, please check out our Wishlist on SeedAndSpark.com and contribute to be a part of this exciting project.
Share #GreatestHits on Twitter | Share Greatest Hits on Facebook