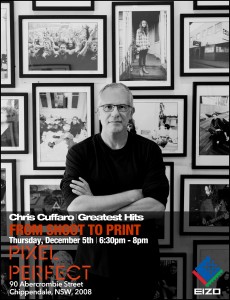 I've got some exciting news! I'm doing something I've never done before and I've ALWAYS wanted to do. Having a little talk about photography, my workflow and my philosophies about my work. ALL this is happening on Thursday, December 5th at Pixel Perfect Lab in Sydney, Australia from 6:30pm to 8:00pm.
I've been shooting for over 40+ years now and have learned a lot about photography and the business of photography. Started shooting and working when I was a kid. Then out of High School I started working at a color lab, then moved to Los Angeles to work at the best B&W lab Photo Impact and then 3 years later started my professional career! I've seen it all from preproduction, film, color, B&W, digital, big shoots, small shoots, post production and everything you can think of. Let's just say I've done it all and have the photos to prove it.
I love teaching and mentoring anyone and everyone with a passion for photography. I love sharing my experiences and ideas with anyone who wants to learn. This is a BIG deal for me. I'm super excited to meet and talk with you. Just ask me anything and I'll tell you the truth. I wanna thank Pixel Perfect and EIZO Asia Pacific for ALL their support and always making me look good.
LOCATION INFO:
Pixel Perfect
90 Abercrombie Street, Chippendale
NSW, 2008 Australia
Tel: 02 9319 0455
Web: pixelperfect.com.au