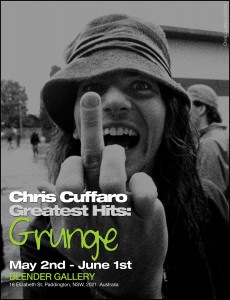 Are you ready? It's time to announce my next BIG exhibition… Greatest Hits: Grunge at the best music photography gallery in Sydney, Australia BLENDER GALLERY from May 2nd to June 1st. This exhibition is for all of you Grunge music fans. This amazing exhibition is a big part of the Sydney Head On Photo Festival here in Australia.
When I think of Grunge, I think of best friends, great shows, The Rocket newspaper, wet weather, Sub Pop Records, great photo shoots and most of all the amazing moments that I witnessed and shot. I look back at the photos and just smile. Coming from Los Angeles, I was an outsider to most, but everyone welcomed me and treated me like I belonged. This was a big deal for me at the time – most of these bands were my favorite bands and musical heroes.
I'm certainly no expert on the Grunge scene or Seattle – there are plenty of those in Seattle. I have my opinion on what is Grunge and what is not. I was an outsider who was welcomed into the best party ever and as always, I've got the photos to prove it.
For all sales enquiries contact: info@blendergallery.com
GALLERY INFO:
Blender Gallery
16 Elizabeth Street, Paddington
NSW, 2021 Australia
tel: 02 9380 7080
web: blendergallery.com
instagram/facebook/twitter: @blendergallery