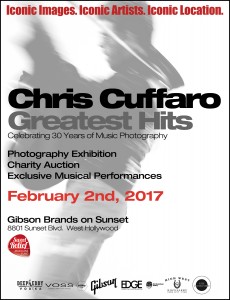 Three long years in the making and only one week to go before my first Greatest Hits exhibition here in Los Angeles at legendary Gibson Brands on Sunset Blvd. You have no idea how excited I am. Wait… that's not the right word. I would say the right word is… READY! I'm so ready for this big night. I've picked the best of the best photos of all your favorite artists… Including Nirvana, George Michael, No Doubt, Pearl Jam, Iggy Pop and Jane's Addiction.
We are going to have epic acoustic performances provided by Givers & Takers, Josh Todd (Buckcherry), Lauren Ruth Ward, Particle Kid and The Palms just to name a few. Passionate, creative and serious music by some very talented musicians. You don't wanna miss this! I couldn't be happier with our line-up.
This is all happening for one BIG reason. To raise money for Sweet Relief Musicians Fund! We're going to auction off my photos to raise money for a great cause. You will have a chance to own my iconic photos and help musicians in need. What more can you ask for?
I want to say a big thank you to Nina Storm, Michael & Nick Lippman, Angelica Cob-Beahler, Jason Behen/Edge Studios, Sam Milgrom/Mr. Musichead, Gibson Brands and Jack Shear. NONE of this would be happening if it wasn't for them. Thank you!