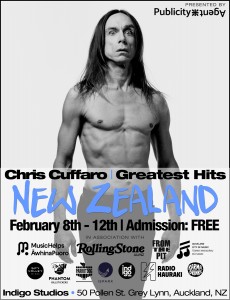 YO!  I couldn't be more excited to announce Greatest Hits: New Zealand in Auckland, NZ.  Seriously… WOO HOO!!  This is gonna be serious fun for many reasons.  First, I've never been to New Zealand.  Second, did I say I've never been to New Zealand?  Last, I've always wanted to go to New Zealand.
Greatest Hits: New Zealand is going to be FIVE days of music, photography, talks, live performances and so much more.  We have worked so hard for months putting this one together.  I've selected the best of my best photos for this one.  Since this is my first time in New Zealand I want this exhibition to be extra special… Iconic images of icons!
The exhibition begins Wednesday, February 8th and goes till Sunday the 12th in Auckland, New Zealand.
INFO & SIGN-UP:
Publicity+
LOCATION:
Indigo Studios
50 Pollen St.
Grey Lynn, Auckland 1021
New Zealand
HOURS:
Wednesday, 8th • 10a – 8p
Thursday, 9th • 10a – 8p
Friday, 10th • 10a – 8p
Saturday, 11th • 10a – 6pm
Sunday, 12th – 10a – 6p
Presented by AgentX/Publicity+
In Association with Auckland City of Music, FromThePit, iSparx, Karma Drinks, Music Helps, Indigo Studio, NZ Music Industry Commission, NZ Music Month, Parrotdog Beer, Phantom Billstickers, Radio Hauraki, Rolling Stone AU/NZ, and Spy Valley Wines.