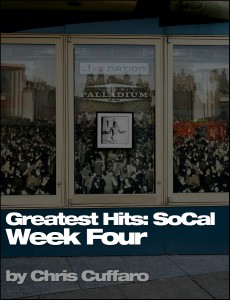 This is it!  My last week for Greatest Hits: SoCal.  Check out these last 5 prints and locations!!!
06.25 – Michael Hutchence | Studio 46 – This iconic rock star was shot at Studio 46 back in 1993 for Detour magazine.  And by the way I directed my first music video there with Pearl Jam.  So much history at Studio 46 for me.
06.26 – Fiona Apple | Smash Box – Shot at the original Smash Box on Olympic Blvd.  So many great shoots and moments at that studio.  I just wish it was still there.
06.27 – Nirvana | The Roxy – I shot this one at The Roxy cuz I saw Nirvana perform at The Roxy before their CD Nevermind was released.
06.28 – Chris Cornell | The Palladium – One of my favorite artist and portraits shot at the iconic Palladium.  Saw Soundgarden perform there back in April of 1992.
06.29 – Perry Farrell | The Palladium – Even though this iconic photo was shot at Studio 46 I wanted to shoot it at The Palladium because Jane's Addiction did so many amazing shows there.  I was lucky enough be there for a few of them.
#20Days #20Locations #20Photos #GreatestHits #CuffaroHits