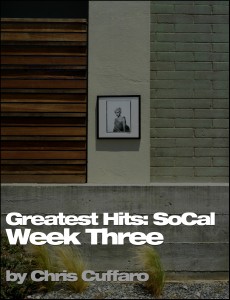 Half way there!  This is too much fun.  Here's this weeks images and locations.  Don't get too excited, just have fun.
06.18 – Gwen Stefani | Smash Box – Shot at the original Smash Box in Santa Monica along with No Doubt back in 1999.  My favorite studio back in the day cuz it was close to the beach.
06.19 – Morrissey | Smash Box – Shot this outside Smash Box where this iconic portrait was shot.  To this day I have no idea if he had a good time.
06.20 – Pearl Jam | Tower Records – Shot this photo at Tower Records cuz that's where I bought their first album of Ten way back in the day.  I spent way too much money at Tower Records!
06.21 – Iggy Pop | Amoeba Records – I needed a space in LA for Iggy that would work and I always loved this wall.  Perfect fit for a perfect artist.
06.22 – Ice Cube | Smash Box – Shot this photo outside Big Box at Smash Box Studios where I did the shoot.  One of my favorite Hip Hop artist ever!
#20Days #20Locations #20Photos #GreatestHits #CuffaroHits