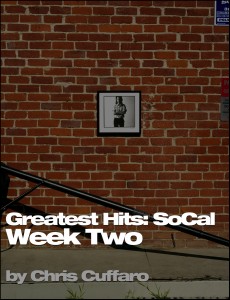 Here we are at week number two of my Greatest Hits: SoCal exhibition.  Check out this weeks photos and locations we shot them at.
06.11 – Nick Cave | Studio 46 – Shot Nick at Studio 46 with his Bad Seeds.  If only that brick wall could talk.
06.12 – Scott Weiland | Smash Box – Outside Smash Box's Soft Box studio where I shot Scott and Stone Temple Pilots back in 1994.
06.13 – George Michael | Tower Records – Outside Tower Records where I had my Greatest Hits: Los Angeles exhibition in 2017.  One of the best nights ever!
06.14 – George Harrison | Warner Brothers Records – I shot George at the Warner Brothers Records conference room on the second floor way back in 1985!  I'll never forgot are conversation about Hard Days Night.
06.15 – Red Hot Chili Peppers | Studio 46 – Again shot this photo at Studio 46 for Warner Brothers Records.  One of my favorite shoots of the Chili Peppers at my favorite studio.
#20Days #20Locations #20Photos #GreatestHits #CuffaroHits