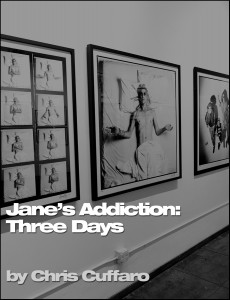 Holy Fuck!  I just had the best Three Days at Musichead Gallery for my Greatest Hits: Jane's Addiction exhibition.  I wanna thank everyone who stopped by for the fun.  All Three Days were amazing!  ALL Three Days made me smile.  ALL Three Days just worked on every level for everyone.
Day ONE was opening night and it was a blast.  Big prints and big fun.  Lots of fans and friends.  It's always fun to watch everyone react to the BIG prints.  I loved hearing everyones stories about Jane's Addiction.
Day TWO was NFT night and my NFT friends.  I dropped some iconic Greatest Hits NFTs.  My NFT partner Chris Arvan and I dropped some collabs.  We dropped some fun and made some noise!  Woo hoo!
Day THREE was my Artist Talk with host Allison Hagendorf.  A great conversation and I got to share my stories behind the photos.  Then we had the best performances by VK Lynne+Shiragirl, Beauty School Dropout and Bexley.
A special thanks to Bexley, Beauty School Dropout, VK Lynne+Shiragirl, Chris Arvan, Tlush Studio and Liquid Death Water for your support.  A BIG thank you to Sam Milgrom at Musichead Gallery for hosting the exhibition.