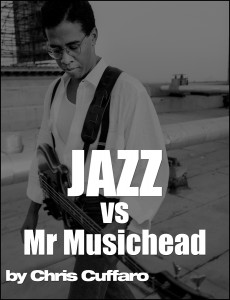 YO! Time for another Battle of the Titans! This time I'm digging deep for Mr Musichead Gallery in Los Angeles… JAZZ!!! I went to my vault, pulled some shoot folders and gathered a serious collection of jazz icons. I also found some hidden gems that I know you will like. This time around it's all about JAZZ! It will be at Mr Musichead Gallery from August 14th to September 30th.
I grew up on JAZZ Fusion & JAZZ in No-Cal. My first concert was Return To Forever at the Berkeley Community Theatre. I also saw so many more… Stanley Clarke's School Days Tour, Jean-Luc Ponty, Weather Report, George Benson, Al Jarreau and Mahavishnu Orchestra to name a few. I was seriously into the music and musicians.
Getting to meet and shoot my JAZZ heroes was huge when I started my music photography career. My biggest and best moment was shooting Stanley Clarke's album cover If This Bass Could Talk. It doesn't get better than that and one of my favorite album covers I shot out of the hundreds.
Mr Musichead Gallery
7420 West Sunset Blvd.
Los Angeles, CA 90046
#323.876.0042
mrmusichead.com