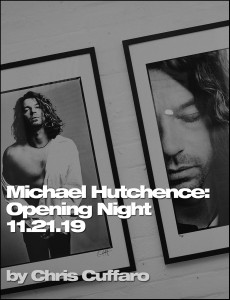 OMG!  What a great and super fun opening night at Blender Gallery for Greatest Hits: Michael Hutchence!!!  I had so much fun meeting everyone and hearing their Michael/INXS stories.  I knew everyone LOVES Michael, but seeing how people reacted to my photos made me smile.  Thank you to everyone who showed up.  I hope you loved the photos and had some fun.  
A shout out to Pixel Perfect Lab, Funktion Framing and Young Henry's for all their support!  A BIG thank you to Tali Udovich at Blender Gallery for hosting such a fun event.  
Photo credit goes to the amazing Rob Scheeren at Pixel Perfect Lab in Sydney!