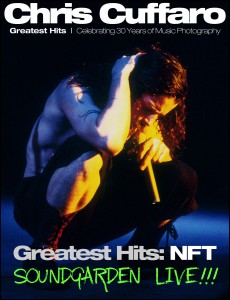 Way back in on January 30th, 1992 at the Ventura Theatre in Ventura, CA I was lucky enough to shoot Soundgarden for some serious fun.  They were in the middle or their Badmotorfinger tour and they were nice enough to let me shoot the show for fun.  I had see many shows at the Ventura Theatre and it was one of my favorite venues.  The sound was great and the venue was intimate, but what I loved most from shooting in the pit was the stage wasn't that high compared to other venues.  So I could really lean in and capture everything I wanted.
This was my 4th time seeing Soundgarden LIVE!  They never disappointed me once.  Chris was the perfect front man as we know.  Chris had the "IT" factor and the best voice in rock!  Kim, Matt and Ben were on fire that night!  Such a great show in every way and I couldn't ask for more.
This NFT collection captures the energy and passion that Soundgarden brought to every show!  Look at every image and you can hear the music LOUDER than LIVE!!!