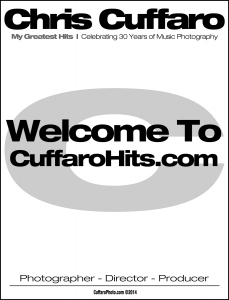 It's been over three decades since I first started photographing musicians.  I've seen, done and photographed a lot since then. I've witnessed over 30 exciting years in the world of music.  I've seen veterans grow old, witnessed the birth of superstars, and experienced the sadness of talent passing out of this world long before it should have.  All of it has fueled the desire within me to preserve what I've seen on paper, not in the form of words but rather in the medium of photographs.
I've narrowed my photographs down and chosen the best of the best, selecting iconic images from my massive catalog of music photography.  These are my Greatest Hits!  This exhibition represents my most famous images, amazing artists and exciting moments from my 30 years of music photography.
My exhibition will present musicians of every kind all in one place.  Sure you'll see the differences between them — the experience that has gone into shaping the individual artist — but I think you will also see many similarities, and the passion behind each pair of eyes that cements them all as members of a very talented, accomplished club.
The times may change industry but one thing remains the constant: the musicians.   Whether they're playing pop, punk, rock, country, or hip-hop it's all about them, their music and their passion.  They will always be cool, hip, funky, deep, dark, sexy and most of all: intriguing.  What drives them?  What fuels their poetic passion?  I want to show you the answer. I want to give them insight into the artist through intimate portraits with some of the world's most extraordinary musical talent.  From behind-the-scenes to live performance. From formal portraits to personal candid snapshots you will discover the passion, the true artists, behind thirty years of music history.