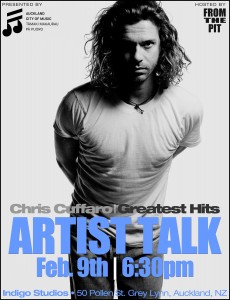 You know how I love to talk.  You know how much I love telling the stories behind the photos!  You do know when ever I get to sit down and discuss my photography life I get excited.  You do know I love to share my two biggest passions… MUSIC and PHOTOGRAPHY.  
This time around for Greatest Hits: New Zealand I'm gonna have a serious Artist Talk hosted by FromThePit!  I promise this is gonna be EXTRA special.  FromThePit are a photography group in New Zealand that support passionate music photographers!  I'm bringing my stories, experience and ideas to everyone who attends.
LOCATION:
Indigo Studios
50 Pollen St.
Grey Lynn, Auckland 1021
New Zealand
SCHEDULE:
Thursday, 9th – Artist Talk hosted by FromThePit | 6:30p
Presented by Auckland City of Music
Presented by AgentX/Publicity+
In Association with Auckland City of Music, FromThePit, iSparx, Karma Drinks, Music Helps, Indigo Studio, NZ Music Industry Commission, NZ Music Month, Parrotdog Beer, Phantom Billstickers, Radio Hauraki, Rolling Stone AU/NZ, and Spy Valley Wines.