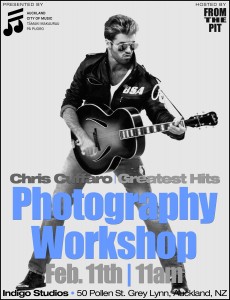 YO!  Do you like photography?  Are you a professional photographer?  Do you shoot for fun or business?  Please come on down to my Greatest Hits: Photo Workshop and hear me out.  I'm going to share my photography stories, business ideas and life stories.  I'm going to drop some wisdom, answer your questions about photography and the business photography.
Hosted by my friends at FromThePit, we are going to talk about anything and everything photography.  No subject is off limits.  The fun begins Saturday, February 11th at 11:00am at Indigo Studios.  Please SIGN UP NOW!  Limited seats are available.
LOCATION:
Indigo Studios
50 Pollen St.
Grey Lynn, Auckland 1021
New Zealand
Presented by AgentX/Publicity+
In Association with Auckland City of Music, FromThePit, iSparx, Karma Drinks, Music Helps, Indigo Studio, NZ Music Industry Commission, NZ Music Month, Parrotdog Beer, Phantom Billstickers, Radio Hauraki, Rolling Stone AU/NZ, and Spy Valley Wines.