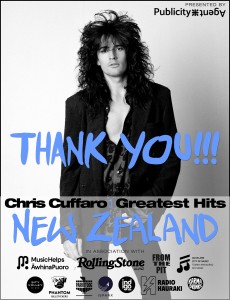 YO!  I survived Greatest Hits: New Zealand and cyclone Gabrielle!!!  Who can say that?  OMFG!  5 Days of photography, music, Artist Talks, Photo Talks and fun.  Everyday was perfect and too much fun!
I want to THANK AgentX/Publicity+ for EVERYTHING!  None of this would happen with out Leesa Tilley.  I want to THANK all my sponsors for their support!!!  I want to THANK my new BEST friends in NZ for the love!  I want to THANK all the musicians for letting me shoot their portraits!  Fucking brilliant!  I big THANKS goes to all the performers who kicked ass with awesome performances… Theia, Ben Horlock, Proteins of Magic and Reb Fountain.  I want to THANK the city of Auckland for the support!!!  (NOT the cyclone!)
LAST… I seriously want to THANK everyone I've met in New Zealand on this first visit.  The love I've felt from day one has been life changing.  The passion for music, photography and life is infectious!  The history lessons on culture has changed my soul.  The respect and appreciation has me feeling better today than ever.  I will be back I promise!  THANK YOU New Zealand!!!
Presented by AgentX/Publicity+
In Association with Auckland City of Music, FromThePit, iSparx, Karma Drinks, Music Helps, Indigo Studios, NZ Music Industry Commission, NZ Music Month, Parrotdog Beer, Phantom BillStickers, Radio Hauraki, Rolling Stone AU/NZ and Spy Valley Wines.