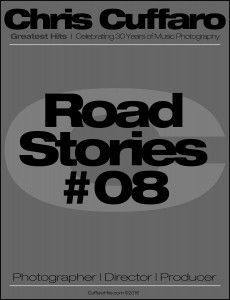 Another post, another story.  This time around its not about the road or a show.  Its about a photo shoot.  Its about my first shoot with my favorite Beatle George Harrison.  He was my favorite Beatle from day one.  The cool one, the quiet one and the smart one.  I was hired by my good friend Gary Koepke from Musician Magazine way back in 1987.  I was asked to shoot George for the magazine and to meet writer Timothy White at Warner Brothers Records in Burbank.  I was told I would have at the most 30 minutes to do this shoot.
My assistant and I got to Warner Brothers early.  Wanted time to set up and be ready.  When you get only 30 minutes you better be ready for anything and everything.  When the time came, George walked in with Timothy and his publicist.  I was a bit nervous and excited at the same time.  You have to understand I grew up with The Beatles, George was my favorite and my favorite music movie ever is Hard Days Night!  After the introductions I got started.  George was so nice and easy.  I knew he had done a few shoots in his time so I kept things simple.
This shoot was the first shoot for his new album Cloud Nine.  He told us that he had just played the album for the president of the label and asked us if we would like to hear it.  Duh!  We shot pix, listen to the album and he told stories.  Timothy was great and I was lucky enough to throw in some questions myself.  We finished the shoot in the 30 minutes, but because George was having so much fun we ended up hanging out for another hour.  I was able to ask him questions about Hard Days Night, Help! and director Richard Lester.  George was so nice to answered all my questions.  At this time in my career this was my biggest shoot to date.  It was an amazing experience to not only meet George and shoot pix of George, but just to spend quality time with George!!!
It went so well that the publicist called me days later and asked if I would go to his video shoot for Got My Mind Set on You and take some px.  Of course I did and had even more fun with George.  At one point I found myself alone with George on set and we just talked about more music.  I was able to bring the Musician Magazine cover with me and he signed it for me (the only autograph I have ever asked for).  Seriously two great shoots and so much fun.  He was such a legend and is still my favorite Beatle to this day.