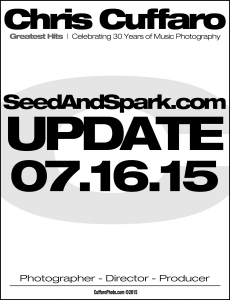 We're just wrapping up our first day of crowdfunding at SeedAndSpark.com and we're very happy with the progress we've made thus far.  We're over 23% of the way to our goal thanks to your support.  We've set ourselves a high goal for this project, because we have high standards for this film.  We know with your support we can achieve this goal.
We'd like to call out our friends at EDGE Grip&Studio, in particular, for joining us as a sponsor of the film and committing to a significant loan of equipment and use of their studio as a location.  If you'd like to see the impact these loans have all you have to do is take a look at our pitch video, which was shot at EDGE Studio in Los Angeles and on the very same equipment they will be loaning us for our Los Angeles shoot days for the documentary.  The team at EDGE have been wonderful to us so far and we very much appreciate their continued support.
This was just the first day.  We have quite a bit planned for the month to come.  If you don't already know, we encourage you to like our Facebook page, follow us on Twitter and follow us on Instagram.  On Facebook and Twitter we'll be sharing a question of the week to get your stories about your experiences in music.  This week's question: What was you first concert?  Let us know on Facebook and Twitter.
Finally, we'd appreciate it very much if you could share your support for Greatest Hits on Social Media.  Here are some sample messages to use, just to make it a little easier:
Twitter: I supported @cuffarophoto's #GreatestHits music photography documentary on @SeedandSpark!  Join me: http://www.seedandspark.com/studio/cuffarohits
Facebook: I supported Chris Cuffaro's Greatest Hits music photography documentary on Seed&Spark.  Join me in supporting this project that will explore the stories behind iconic images of music legends including Nirvana, Ice-T, Willie Nelson, Pearl Jam, Jane's Addiction, George Michael, George Harrison, Brian Wilson and many more.  http://www.seedandspark.com/studio/cuffarohits
Thank you again for your support and we look forward to sharing much more with you!