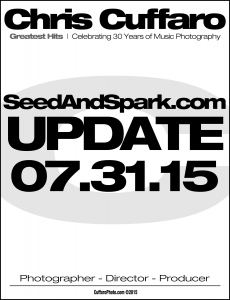 Its day 17 of our crowdfunding campaign and yesterday was a good day!  Some of my friends have stepped up and contributed. THANK YOU!  It makes me smile and want to work even harder.  Like I said, this is not easy, but not it's impossible.  Every day is a new challenge and it's more work than I ever imagined.  If we hit our goal of 150k, we'll have even more work to do!  Producing and directing this documentary is another challenge that I look forward to.  We have big ideas and some fun interviews planned.  If you love music like I do, then this is the documentary for you.
Today is Friday and we're over 25%. We have a goal to hit 40% by Sunday.  Please step up, and donate today. We'll unveil a few clips of my stories about George Harrison, Iggy Pop, George Michael, No Doubt, and Eddie Vedder after we hit our 40% goal. Tell your friends and family to contribute.  Also please spread the word and share, retweet, tweet, Like, post and if you got time… Spray paint our link on a wall!  Go to seedandspark.com/studio/cuffarohits now and join our project!  THANK YOU!
If you haven't already, please check out our Wishlist on SeedAndSpark.com and contribute to be a part of this exciting project.
Share Greatest Hits on Twitter | Share Greatest Hits on Facebook