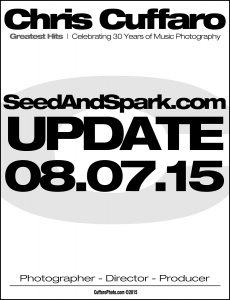 Hi, I'm Sean Mannion, I'm Chris' producer for the Greatest Hits documentary. I'm sure you're all tired of hearing from Chris every other day in your email. Believe me, I get it. He and I have spoken on the phone almost every day for the last 3 months. Today, you get a little reprieve from Chris and you get to hear from me, instead.
Here's the deal: we are just over a week from our deadline for our crowdfunding campaign for Greatest Hits and we've still got a long way to go. We need your help. See, the key word in crowdfunding is crowd. We need a lot of people and that starts with our friends, colleagues, casual acquaintances, and people we don't totally hate and maintain casual infrequent contact with. Before all the strangers flock to us because of how great this project is we need you to show them how much you believe in Chris.
You do believe in Chris, don't you? You want this project to succeed, don't you? We need you to show it. Kick in some cash. Today. Not tomorrow. Not in a week. Today. Sharing the project is great and helpful, too, but today, we need your support in the form of cash. When you do there's all sorts of cool rewards you'll get in return, including quality prints of some of Chris' amazing photos. Most of all, though, you get to support Chris in his journey from being the best photographer you've never heard of to the first name people think of when you mention music photography. Be a part of this before it's cool: support Greatest Hits on Seed&Spark, today.
Sean Mannion
Executive Producer
Greatest Hits