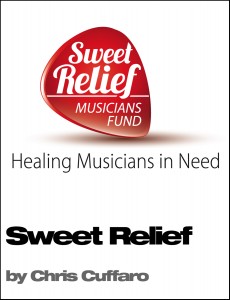 Yo!!!  So excited to let you and everyone know that is official… I have partnered with the charity Sweet Relief Musicians Fund for my Greatest Hits Project!  I couldn't be any more excited to partner with an amazing charity that helps musicians.  Since musicians have help me, inspired me and have been nice enough tor trust me.  This partnership is so important for the big event we are working on.  We don't have a date yet, but we're looking at February 2017.
Sweet Relief's Mission is simple… "Sweet Relief Musicians Fund provides financial assistance to all types of career musicians who are struggling to make ends meet while facing illness, disability, or age-related problems."
My mission has always been the same… Work smart, be the best I can be, help everyone, be nice, never settle, be grateful and always have fun doing it.  If I had to add one more thing to it, I would add go big or go home!  That's what my Greatest Hits is ALL about.  I'm lucky to add Sweet Relief to my team and in the next few months we will be adding more.  I was told many years ago that if you surround yourself with the best, you are the best.  I've tried to do that for over 35 years now and more NOW that ever.
CHECK OUT: SweetRelief.org