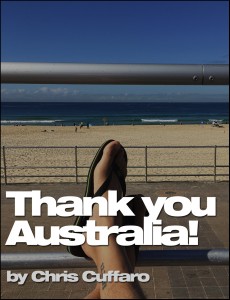 That's a wrap mate! 3 months in Australia is done. What a great 3 months on every level. Old friends, new friends, grunge exhibition, beach life, 3 visits Melbs, great press and most of all lots of fun! This trip was the longest I've done in Oz. The longest before was 6 weeks. This trip was perfect in almost every way.
First, I want to thank everyone in Australia! To my old friends and new friends. You made the trip the best ever. Second, I want to give a shout out to Tali Udovich at Blender Gallery for having my Greatest Hits: Grunge exhibition. Third, I want to thank ALL of Bondi for being so amazing! Everyone I met was so nice and helpful. The food was great and the beach even better. Fourth, my best mates were brilliant as always. You know who you are and you know how much I love you. Fifth, I want to give an extra special thanks to all my new best mates. You are the reason I love coming to Australia for over 30 years now. I always come home with new best friends.
This trip was all about the BIG Greatest Hits: Australia exhibition I want to do in November. I worked my ass off to lay down a foundation to build on. My super team of Nadya Balzarolo and Karen Griffen are the best of the best. I'm so lucky to work with people who can put up with my and my ideas. I can not wait to go back in October for another 3+ months. I hope everyone is ready for me. If not, get ready!!!
LAST… A super special shout out to my best mates Mia and Mo in Melbourne. Thanks for everything and most of all thanks for taking care of me on every trip to Melbs. Can not wait to get back and annoy you even more. ;-)