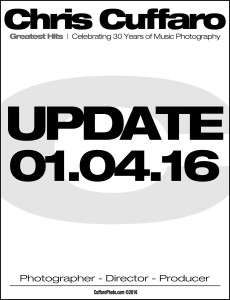 Its been a while since my last update.  I'm sorry, I've just been super busy working on my Greatest Hits.  You have to know this project is everything to me.  I am sacrificing so much to make this dream come true.  Its now 2016 and that means a lot.  Its the 25th anniversary of 1991.  That was the year that music blew up and changed the world.  Nirvana, Pearl Jam, Lollapalooza, grunge, lots of great shows, great photo shoots and too many great memories.
Thats why I started this project two years ago.  To be ready for this 25th anniversary.  Trust me you will be seeing all sorts of nostalgia going on for the next 12 months.  I know that bands, labels and magazines will go nuts celebrating the good old days.  The one thing I have over most people is that I not only was there, but I have the photos to prove it.
The project is going forward as always.  NOT easy, but I'm very positive.  I did a great NYC trip last month and got nothing but love from everyone I met.  Lots of great ideas that I'm working on now.  I don't want to say too much, because I don't want to jinx anything.  I've shot some new interviews for the documentary and have a few more lined up.  If all goes well I will have my first exhibition date set by the end of January.  Cross your fingers!!!  Please follow me on Twitter @CuffaroPhoto & @CuffaroHits AND Instagram @CuffaroPhoto to hear/see the latest.  Thank you for all your support!