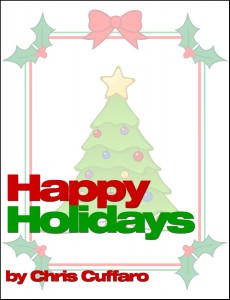 Happy Holidays! I'm so happy that 2016 is over. Its time to celebrate with family and friends! Time to reflect and be grateful, but then again I do that everyday. The only difference is that I get to eat lots of cookies, listen to Christmas music and watch White Christmas 10 times! My favorite thing to do this time of year is to listen to Charlie Brown's Christmas soundtrack. By far the best Christmas music there is. Yes, there is a lot of great music to choose from, but this soundtrack is perfect.
2017 is going to be the best I promise! Starting with Greatest Hits in February my goals are to build off of it. I want to have 2-3 more events around the world. I want to share more, do more and have fun doing it. SO much to do before this, but nothing I can't handle. I'm lucky to do what I love and love what I do. It never feels like work to me. Thank you for all the love and support.
Please have a fun and safe holiday. See you next year! Ho Ho Ho!